Age Of Ageless.
Growing old doesn't mean growing in silence. We believe that everyone deserves to have their voice heard. #Timelesswomen is a platform that shares the stories and challenges of growing old as a woman.
Each of us has a story to tell, so why not share it loud and proud? Each story on this platform has its own personal narrative ranging from stories of love to overcoming health obstacles, encountering new friends and adapting to changes over time.
The Timeless Project aims to spark a conversation through storytelling, in order to shift the mindset about an aging generation, so that together we can learn to embrace and celebrate this phase of our lives.
If you are or know of someone who has aged fiercely, join the conversation by sharing your stories #TimelessWomen
Meet the team
Photographs by Denver Rodrigues
website: https://www.thetimelessproject.ca/
Youtube interviews: https://www.youtube.com/channel/UCPF1TOzucV317hk-QRt-w6w
Instagram: https://www.instagram.com/thetimeless_project/
Meet Women's Art members:
Marilyn Halley & Molly Peacock
Marilyn is a Director at the Women's Art Association of Canada, a Boy Scout leader, artist and Cancer survivor. She is also the proud host of hundreds of international students who have taken comfort in her home for the past 45 years.
About 12 years ago, Marilyn was diagnosed with breast cancer. After coping with it, she was diagnosed with breast cancer a second time, two years later. Even though she was told to remove her breast, she couldn't get herself to do it. Seven years later, when she started to slowly heal, she was diagnosed with breast cancer for the third time. This time, she had her breasts and a 3.9cm cancer tumor removed. The night after her operation, Marilyn went home and cooked her students dinner, worried they would be hungry at night. Marilyn went on living her life, right after the surgery.
She says she never had the time to sit down and cry or feel sorry for herself. Like a true champ, she kept living throughout the diagnosis, throughout the chemotherapy, and everything in between. Her focus on her friends, family, travelling, art, and students have kept her young at heart. As Marilyn always says, "I think that's the secret. You just have to live, just go on and live". She believes in the importance of living an active lifestyle and practicing self love. Whether it's writing letters to friends, putting on makeup and jewelry to go out for the day, having a coffee at a coffee shop, or catching a concert with someone from a younger generation. These are the things that keeps Marilyn smiling.
"Oh, age should never stop you from being who you are."
"After surviving cancer twice, it definitely made my life feel more special. You just have to go on and live. Let yourself free and see what happens.
"I feel like I'm still blossoming. I feel like I'm in another time in my own life."
Meet MOLLY PEACOCK
Molly Peacock is a poet, biographer, essayist, and short fiction writer whose multi-genre literary life has led her to write about late-life creativity. She discusses the challenges of feeling invisible when experiencing aging and what women can do to overcome it by accepting personal growth throughout their lifetime.
She is passionate about the beauty of older women as well.  She celebrates the life of an octogenarian visual artist in The Paper Garden:  Mrs. Delany Begins Her Life's Work at 72, named a Book of the Year by The Globe and Mail, The Economist, Booklist, The London Evening Standard, The Sunday Telegraph, and The Irish Times.  Her most recent book of poetry, The Analyst, tells the story of a therapist rescued by her talent for painting after a stroke at age 77.
A project starter all her life, Molly believes enthusiasm carries us forward. When she lived in New York City, she co-founded Poetry in Motion on the subways and buses, now in its 26th year. In Toronto she inaugurated The Best Canadian Poetry series, now in its 12th year. She has written a memoir about her choice not to have children, Paradise, Piece by Piece. She has written a memoir about her choice not to have children in Paradise, Piece by Piece, and a play in poems, The Shimmering Verge.
She is married to her high school sweetheart (after a two-decade gap) – a Western University Professor Emeritus, Michael Groden. They live in a Toronto condo among books, plants, and watercolours.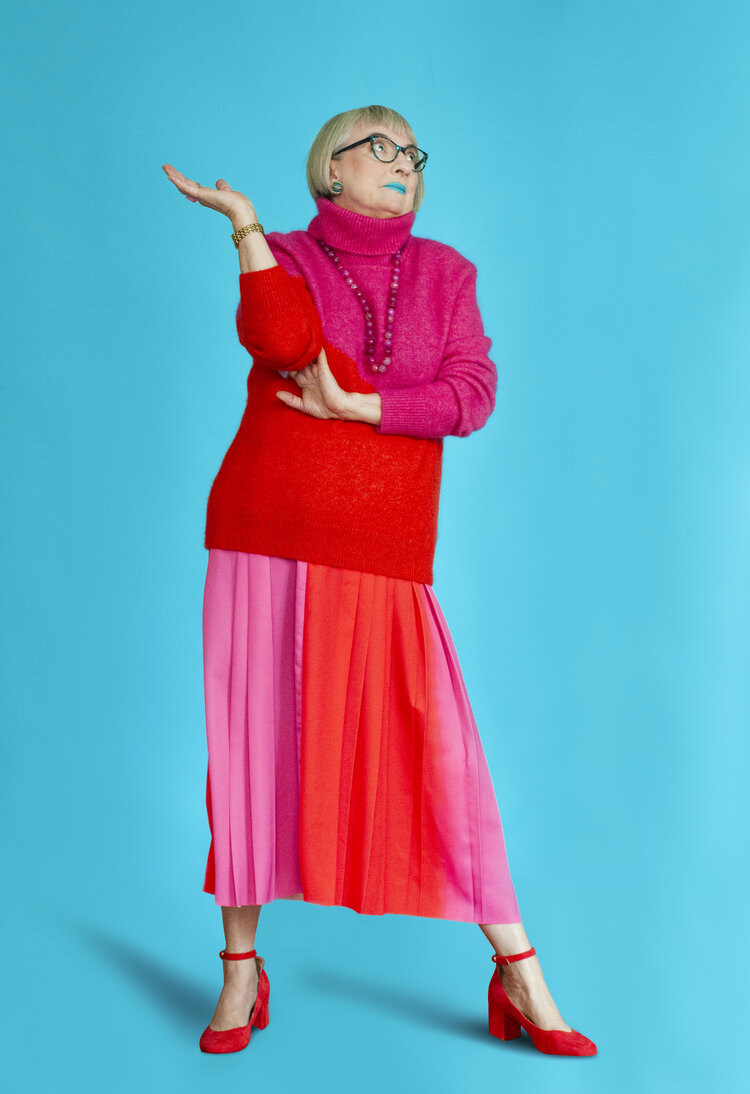 "Why do women stop putting effort into themselves after a certain age? Because they feel invisible.
Photographed by Denver Rodrigues